is bbqing with spotify on the phone and alkaseltza in hand. rock and freaking British summer time roll!
@jasonkneen to much mud. stripped the tractor back and stuck a horse in. job done. K.I.S.S.
@boffbowsh yeah it'll be a project soon I think. this is just to anonymise staging. have raw SQL so will hack it that way for now.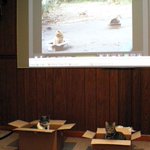 thesambarnes How to trap a cat. 100% effective. pic.twitter.com/MCPCvVDD (via RT @raubrey) #fb
damn you farmer. get your speeding tractor in order. not an agricultural reference either. hrumph.