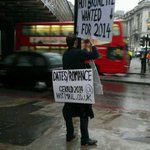 RichardNSkinner Spotted at Waterloo station this morning. Via @raquelle pic.twitter.com/ii0cU4t8EY
@NHSEngland we might need to go to A&E only 'cause GP surgery never answer the phone & tel. consults now required - how do i complain?
we won't even go in to incorrect diagnosis and the fact that we've had to go in to A&E before for care as the GP doesn't get it right
tudor house surgery in wokingham is the worst surgery in the world. the "new" appointment system only works if you can every get through.